Albania, one of Europe's fastest-growing travel destinations, will focus on alternative rather than mass tourism in a move that government officials hope will help set it apart from competitors. The tiny Balkan state, once hermetically sealed from the outside world, has soared in popularity on the back of a reputation increasingly seen as both trendy and exotic. Last year it attracted 7.5 million visitors, more than twice its population and up from a record 6.4 million in 2019.
"It's another country compared with 10 years ago," says the Albanian minister of tourism and environment, Mirela Kumbaro, noting that the nation has more than made up for losses incurred since the outbreak of Covid-19. "Things are changing so quickly … the Albania of 2023 is full of positive energy."
The travel rebound is expected to intensify thanks to pent-up demand post-pandemic and the appeal of a short-haul destination that offers incredible value for money.
But Kumbaro, an academic before she ventured into politics, says surging arrivals won't be part of the tourist strategy envisaged going forward. Instead, plans are afoot to diversify a sector seen as key to Albania's economic growth.
Shifting away from the traditional sun and sea model offered by its Mediterranean neighbours, officials want to rebrand Albania as a high-end "quality" destination by catering to new markets. "We made some mistakes in the 1990s," she told the Guardian, referring to the turbulent transition from Stalinist dictatorship to democracy. "You cannot learn without making mistakes: they are part of the process."
She points to the "ugly hotels and buildings" that shot up with the unregulated development of prime resorts along the Albanian Riviera in the chaotic aftermath of communism, such as Sarandë, the coastal town facing Corfu.
"As minister of tourism and environment there is a kind of check and balance [to my role]," she says. "I may be proud that we have 7.5 million tourists but, to be sincere, I am not asking for more. I am asking for quality, for people to stay longer than the average three to four nights, and to come all year round. Beaches aren't unique. What's unique [about the country] is virgin, untouched, undiscovered."
As such, she says, it will not be package beach holidays that are promoted but agritourism and ecotourism – both more evenly spread, and drawing on Albania's spectacularly diverse landscape of mountains, forests and coastline.
"What we want is tourism that is friendly to the environment, responsible and sustainable. We don't want tourism concentrated only in certain areas, but tourism that focuses on cultural heritage, gastronomy, hiking, rafting, nature … there are so many little farms that people can go to and enjoy all of this."
Albania's hinterland and northern Alpine region, home to the Accursed Mountains, offer unrivalled potential for agri- and ecotourism. International development agencies have weighed in amid growing efforts to promote the sort of tourism able to enrich areas that remain among the poorest in Europe.
Last week attention turned to the 273km Vjosa river, often described as the "last wild river of Europe", after a pledge by the prime minister, Edi Rama, to turn the basin encompassing the river and its tributaries into a new national park – the first of its kind in Europe – in a move to help boost tourism. Kumbaro cited the need to revitalise villages through rural tourism as she announced she would submit an application for the entire Vjosa basin to become a "Unesco biosphere reserve".
Home to more than 1,000 animal and plant species, the Vjosa, which runs undammed and unimpeded through the country from its source in Greece, is emblematic of the environmental paradise that Albania was allowed to become in no small part because of the paranoia of Enver Hoxha, the dictator who ruled Shqipëria – the land of the eagle – for over 40 years.
Barely three decades have elapsed since Albania emerged from Stalinist rule. No other member of eastern Europe's former communist bloc suffered such repression or isolation.
Now 56, Kumbaro lived much of her early life under a regime she remembers vividly. Tourism, back then, was allowed only for avowed Marxist-Leninists and strictly controlled by Albturist, the state tourist agency tasked with developing the sector after Hoxha's death in 1985. "Only about 200 people on very well-organised bus tours visited every year," she recalls. "They belonged to [communist] 'friendship associations'. But even then, Albturist was controlled by the Sigurimi secret police."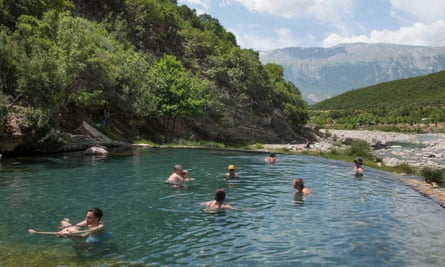 Cameras were forbidden, along with miniskirts and beards – men who entered Albania when Hoxha was alive were forced to shave their chins at the border and have hair deemed too long chopped.
Later, as the state began gingerly to open up, bus trips started from Athens – mostly serving Greeks with relatives living in minority communities in the south. Other tourists were permitted, but vetted before visas were granted.
Tours only ever went as far as Tirana, the capital, where visitors stayed in drab, Soviet-era hotels with staff who would pass desperate notes under plates as they waited tables.
Travel farther north into the dirt-poor highlands was off limits. A dumping ground for political prisoners whose numbers swelled as Albania gradually split from other communist countries, it was the site of notorious hard labour camps. "Everything was forbidden, even religion," says Kumbaro, remembering how her grandmother had been "too frightened" to speak openly about her faith.
"For me, tourism is about emancipation. It opens the doors to others and is a wonderful thing."