I'm always excited about the ceremonial cooking of lamb in any context, and especially over Easter, when I know the table will be abundant with good company and light-hearted cheer. For this reason, I don't mind taking on the task of putting together the celebratory meal, getting lost not only in the meaty centrepiece, but also in the semlor buns and slow-cooked potatoes, and in the hum of music and the echo of happy voices in the background. So here is a grand feast, for Easter and beyond.
Roast lamb with boulangère potatoes and fennel (pictured top)
Boulangère potatoes or potatoes à la boulangère references the time when French bakers would cook meals for their local customers in the leftover heat from their bread ovens. These days, a home oven will do the job perfectly well for this very easy and lovely meal.
Prep 30 min
Marinate 60 min
Cook 2 hr 40 min
Serves 4-6
1 bone-in lamb shoulder (about 1½kg), left at room temperature for about an hour
For the dry rub
1½ tsp black peppercorns, coarsely crushed in a mortar
1½ tsp cumin seeds, coarsely crushed in a mortar
1 tsp paprika
½ tsp ground cinnamon
For the boulangère
4 medium king edward potatoes (750g), peeled and cut into 4cm pieces
3 fennel bulbs (600g), cut into 2cm wedges, fronds reserved
2 onions (360g), peeled, halved and cut into 3cm wedges
12 garlic cloves, peeled
3 tbsp rosemary leaves, roughly chopped
15g oregano leaves, roughly chopped
150ml dry white wine
300ml chicken stock
Fine sea salt and black pepper
First, marinate the lamb. Mix all the dry rub ingredients with a teaspoon and a half of salt, then massage all over the lamb shoulder. Leave at room temperature for an hour (or refrigerate overnight, if you're getting ahead).
Heat the oven to 240C (220C fan)/475F/gas 9. Put all the ingredients for the boulangère apart from the fennel fronds in a large (roughly 30cm-wide), round, cast-iron saute pan, add three-quarters of a teaspoon of salt and mix well. Lay a roasting rack on top of the pan (don't worry if it isn't round), then put the lamb joint in the centre, so it sits above (but doesn't touch) the vegetables beneath. Wrap the whole thing (lamb and pan) in foil, then roast for 10 minutes. Turn down the heat to 190C (170C fan)/375F/gas 5 and roast for another hour. Remove the foil wrapping, set it aside for later, then roast for 90 minutes more, turning the lamb once halfway.
Carefully lift the lamb and its rack out of the oven, cover with the reserved foil and leave to rest. Return the boulangère to the oven and roast for a further 20 minutes, until nicely browned and crisp.
To serve, cut the lamb into thick chunks and arrange on a platter with a lip. Sprinkle the reserved fennel fronds over the potatoes and fennel, and serve hot alongside the lamb.
Roast red pepper salad with anchovies and almonds
This salad-come-salsa works as well alongside roast chicken or any white fish as it does with the lamb. It's also great served just as it is, as a fresh, light lunch, ideally with some crusty bread. Replace the anchovies with capers, if you prefer.
Prep 7 min
Cook 1 hr 20 min
Serves 4 as a side
20g golden raisins
1 tsp red-wine vinegar
1 tsp white-wine vinegar
1 tsp runny honey
3 red peppers (640g)
½ tsp sesame oil
1 garlic clove, peeled and crushed
2 tbsp olive oil
Fine sea salt and black pepper
1 tbsp (5g) parsley leaves, roughly chopped
1 tbsp (5g) basil leaves, roughly chopped
8 anchovy fillets in olive oil, drained
25g roasted almonds, roughly chopped
Put the raisins, both vinegars and the honey in a medium bowl and mix to combine.
Set a large cast-iron pan on a high heat and ventilate the kitchen. Lay in the peppers and char, turning every few minutes, for 20-25 minutes, until they are blackened all over (alternatively, char them under a very hot grill). Transfer the blistered peppers to a small bowl, cover with a plate and leave to steam for a few minutes. When the peppers are just cool enough to handle, peel off and discard the skin, and discard the stems and seeds. Peel the flesh into petals, add to the raisin bowl, then gently stir in the sesame oil, garlic, a tablespoon of olive oil, a quarter-teaspoon of salt and a good grind of pepper. Leave to marinate and cool for about 40 minutes.
Add the herbs to the bowl and give everything one last gentle tumble. Spoon the pepper mix and all of the marinade on to a large plate, drape the anchovies over the top, then scatter with the almonds and drizzle on the remaining tablespoon of olive oil. Grind some more black pepper on top, and serve.
Cardamom semlor buns with pistachio praline and lemon cream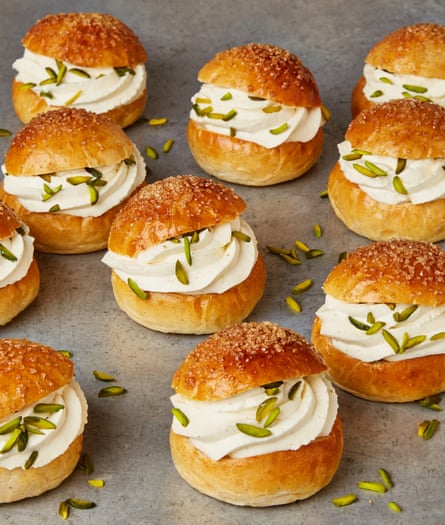 These delicious Scandinavian buns are traditionally filled with almond paste and eaten during Lent and the run-up to Easter (and always on Shrove Tuesday). My version swaps the almonds for pistachios and applies the Japanese tangzhong technique to making the dough, which involves incorporating a slurry that makes the buns even softer and fluffier.
Prep 30 min
Prove 3 hr+
Rest Overnight
Cook 10 min
Makes 12 buns
For the tangzhong
10g strong white bread flour, plus extra to dust
60ml whole milk
For the dough
250g strong white bread flour
1¾ tsp ground cardamom (ie, from the seeds of about 30 pods)
½ tsp fine sea salt
60g caster sugar
1 tsp fast-action dried yeast
110ml whole milk, plus 100ml for the filling
1 large egg, beaten – set aside 10g for glazing
50g room temperature unsalted butter, cut into 1cm cubes
15g demerara sugar
20g slivered Iranian pistachios, or roughly chopped regular pistachios
For the praline
200g caster sugar
⅛ tsp fine sea salt
150g regular pistachios, toasted
For the cream
400ml double cream
1½ tsp vanilla bean paste
2 tsp finely grated lemon zest (from 1-2 lemons)
3 tbsp icing sugar
1 pinch fine sea salt
First make the tangzhong. Put the flour and milk in a small saucepan, mix well, then cook on medium heat, stirring frequently, for two to three minutes, until glossy and like a thick bechamel. Set aside to cool for five minutes.
Meanwhile, make the dough. Put the flour, cardamom, salt, caster sugar and yeast in the bowl of a stand mixer fitted with the dough hook. Add the tangzhong and mix on medium-high speed until just incorporated. With the motor still going, slowly pour in 110ml milk, followed by the egg, then knead for five minutes until the mix forms a sticky dough. Add the butter piece by piece, then knead for another five to seven minutes, until the butter is fully incorporated and the dough is starting to come away from the sides. It should still be slightly sticky.
Use a bench scraper or spatula to scrape the dough into a ball, then cover the bowl tightly (I use reusable kitchen wrap) and leave in a warm place to rise for an hour to an hour and a half, until doubled in size.
Lightly flour your hands and a work surface. Gently tip the dough on to the surface and knead into a ball to knock out the air; it will be sticky, but don't be tempted to add more flour. Scrape back into the bowl, cover tightly again and refrigerate overnight.
The next day, line one or two large oven trays with baking paper. Knead the dough again, to knock out all the air, then divide into 12 x 45g balls. Dust your hands and work surface with flour, lightly cup your hands over one piece of dough and, using your thumb and fingers to guide it, roll into a smooth, pert ball. Place on a lined tray and repeat with the remaining dough, leaving a 4cm gap between each ball. Cover the tray with a clean tea towel and leave the balls to rise for an hour and a half to two hours, until doubled in size.
Heat the oven to 220C (200C fan)/425F/gas 7. Brush the tops and sides of each ball lightly with the reserved beaten egg, sprinkle with the demerara sugar, then bake for 10 minutes, until golden brown. Remove from the oven, transfer to a wire rack and leave to cool.
Meanwhile, make the praline. Put the sugar and salt in a small saucepan on a medium heat and cook for five to seven minutes, swirling the pan occasionally, until it turns into a light amber caramel. Off the heat, stir in the pistachios, then pour on to an oven tray lined with greaseproof paper. Leave to cool for 10-15 minutes, then transfer the praline mix to a large food processor and blitz, scraping frequently, for 15 minutes, until you're left with a smooth and spoonable paste.
To make the filling, use a small, serrated knife to cut a 3-3½cm lid off the top of each bun, then set these aside. Use a small spoon gently to scoop out the middle of the buns into a medium bowl, to give you about 100g crumb in total. Pour in the remaining 100ml milk and use a fork to mash everything to an almost-smooth paste. Stir in the praline, spoon the mix into a piping bag, then pipe into the hollowed-out buns.
Finally, put all the cream ingredients in the bowl of a stand mixer and whisk to soft peaks. If you have one, put a large, star-shaped nozzle in a piping bag, then scrape in the cream and pipe soft swirls on top of the filled buns (alternatively, just spoon it on top). Scatter over the pistachios, top the buns with their reserved lids and serve.