In the early 1980s, Andy Warhol invited Tommy Hilfiger for a tour around the Factory. At the time Hilfiger was a relative fashion unknown. He had just started designing clothes and launched a few fashion lines called Century Survival and Click Point. When he arrived at the Factory to meet his hero, Warhol was working on a Marilyn.
"But he was also making movies, he was photographing celebrities, he was silkscreen-painting celebrities. Then he'd be out at Studio 54 handing out his own magazine. I said to him, 'Why do you do all of this?' and he said, 'Because I like to.'"
Hilfiger, 71, is talking to me at the giant Tommy Hilfiger archive in Queens, New York, a Warholian temple of his own work and designs – whole rooms covered in photos of Hilfiger alongside heroes of music and sport, everything from baby clothes to disposable cameras slapped with his familiar emblem, rails and rails of clothes bearing his name.
Hilfiger says Warhol transformed his approach to fashion. He showed him the power of symbolism, how one striking design can speak to something greater.
"It was so powerful, like an infusion or some sort of a drip. I was so profoundly inspired by Warhol. I started to look at things like the Rolling Stones tongue, the Nike swoosh, the Mercedes-Benz star, the Chanel Cs and the Gucci Gs. I knew I needed my own logo."
Hilfiger shuttered his other fashion lines and started a single company that bore his name. Over the next 30 years he created a template that has become orthodoxy for street fashion: create a logo that lasts – the Mondrian-esque red white and blue flag – slap it over everything, and get cool people to wear your clothes. He became the most successful American designer of the 1990s, creating a brand beloved by everyone from Tupac to David Bowie. The company grew with the speed we'd now associate with Silicon Valley – it was floated on the New York Stock Exchange before it was bought for $1.6bn (Hilfiger remains principal designer at the company, which was later resold to PVH, owner of Calvin Klein, for $3bn).
Today, Tommy Hilfiger sells more globally than he does in the US, with outposts all over Asia and Europe. And Hilfiger himself has become a Warholian figure in his own Factory, the human manifestation of the preppy brand he imagined into being.
I'm nominally here to speak to him about the launch of his new "Classics Reborn" line – a retro-inspired collection of clothes that riff on his history in fashion. But even Hilfiger admits that he's more excited by his brand as a marketing and communication exercise than he is about fashion designing. "We've got a great design team with me so I know that we'll continue to have the right product. But I think the voice to the public is really important. How you show up: visually and also via expression."
So we talk instead about what the brand has communicated over the past four decades. Indeed, as we tour the archive, what is striking is not beautiful clothes but incredibly robust branding. He began the line in the late 1980s by reinventing British private-school clothing for the mass audience – selling oversized rugby shirts, sailing jackets and chinos. But within a decade he had branched into sportswear, runway high fashion and even a line of baby clothes. Each new iteration of Tommy called back to that initial idea, a logo and a colour scheme and some tiny nods to blue-blooded Americana that refracts and permeates any number of new lines and capsules – an idea that has heavily influenced streetwear brands like Supreme, Palace and Virgil Abloh's Off White (all three would be impressed by the branded Hilfiger Game Boy Color and disposable camera in the collection).
None of that success would have been possible, though, had it not been for the way young Black Americans adopted the brand in the early 1990s. These days, you could go to the fanciest school on the Upper East Side and find the children of billionaires listening to hip-hop. But when Hilfiger started, the privileged world had little interest in Black culture.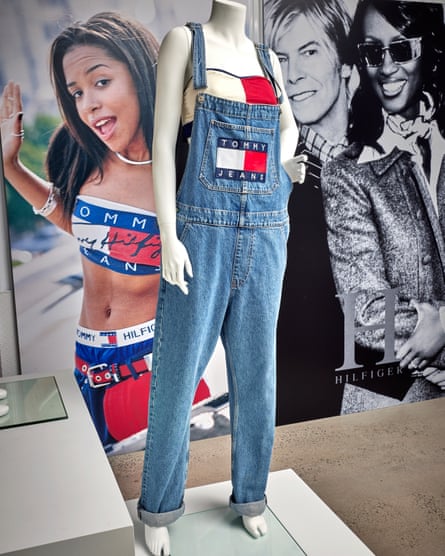 Rappers, in particular, wore his preppy-looking clothes, as well as polos from his rival designer Ralph Lauren, as signifiers of status. Initially this was organic: the rapper Grand Puba mentioned Hilfiger on a track. In response, and at a time when brands gifting clothes was largely unheard of, Hilfiger gave him $20,000 of free clothes and offered more whenever he had a music video or photoshoot. Hilfiger continued to dish out clothes to people he thought were cool, and soon he was the go-to designer for the hip-hop world.
Hilfiger is explicit about why he thinks his brand was so popular. "The clothes were very inspired by yachting, prep schools, Ivy League and New England, where more aristocratic privileged Americans lived and summered in Cape Cod, Nantucket and the Hamptons. It was actually Russell Simmons, who really is one of the godfathers of hip-hop, who said to me that young street kids and rappers wanted to wear the clothes because they wanted to look rich."
Two moments in particular – a Tommy Jeans photoshoot with Aaliyah and a young Mark Ronson on a rooftop and a Snoop Dogg performance on Saturday Night Live in 1994, where he wore a Tommy Hilfiger rugby shirt – saw demand for the brand soar.
Hilfiger responded by catering more directly to Black street style, making his clothes more affordable than Ralph Lauren's Polo brand and tweaking their design. He says the rap community "love sports and wanted to be sporting. So then I started doing big logos. But they wanted everything way, way oversized, because they were buying sizes that were way too large. And so I started just making oversized, and it was a perfect storm. I was dressing Puff Daddy for his tours. I was dressing Biggie Smalls. I was dressing Tupac." Soon Ralph Lauren was out and Tommy reigned supreme in Black street fashion.
But at the same time, Hilfiger was also keen to make sure rich teenagers knew the brand was for them. In one major campaign, the brand shot Ivanka Trump, Rod Stewart's daughter Kimberly, James and Elizabeth Jagger, Quincy Jones's daughter Kidada, Sting's son Jake Sumner, and Kareem Abdul-Jabbar's son Amir as well as Hilfiger's children.
The brand's dual appeal gave rise to a cruel rumour. In 1997, Hilfiger was the victim of one of the first cases of what we would now call online fake news. An article circulated on the still nascent world wide web that Hilfiger had appeared on Oprah and said, or agreed with, some version of the statement: "If I'd known African Americans, Hispanics, Jewish people and Asians would buy my clothes, I would not have made them so nice. I wish these people would not buy my clothes, as they are made for upper class white people." According to the fake article, Oprah then threw him off set and the episode never aired.
The story is a complete fabrication. Hilfiger had never appeared on Oprah or made any similar remarks at any point. But this was at a time before internet literacy, and despite repeated denials from Hilfiger and Oprah, it hung around.
"It was when the internet was just starting," Hilfiger says of that moment. "It was devastating, that people would think that I would really think that way. And I think people who know me knew that it wasn't true. But there are so many millions of people out there who didn't know me but had heard. You didn't have social media then – these days if something blows up on [the fashion watchdog] Diet Prada there are so many comments. It couldn't happen now."
I'm interested, though, in what Hilfiger does think about the unique class and racial politics of the time that allowed him to become so successful. If his brand is all about iconography, then what does it say about culture and race when Tupac is donning styles associated with wealthy white people? Hilfiger's brand only became more popular with actual privileged elites after the hip-hop community had co-signed it. His initial ranges only included mock sailing gear and golf shirts that couldn't really be used at sea or on the course – but later collections offered the real thing at higher price points.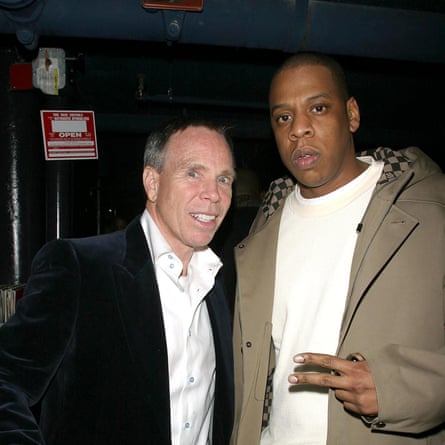 That story of class and race runs through all the things that you do, I say.
"Absolutely, yes, it does," says Hilfiger.
But were you offering more than just aspiration?
"It has to be aspiration, it has to be cool, it has to be relevant. But also people take deep dives into the company. Are they diverse? How do they treat their workers? Do they give back? Do they embrace other cultures? We're very aware of how our company should exist."
Hilfiger starts to talk about corporate responsibility. "We have our Peoples' Place programme, where we embrace youth of colour to give them opportunity they wouldn't ordinarily have. We have a whole collection of clothes for people with special needs. No other designer has." Although he's keen to point to the diversity of the company's workforce, its outreach projects and sustainability credentials, he doesn't offer a deeper reflection on ownership, race and how it helped his rise.
But perhaps he has reason to be nervous about saying the wrong thing. He says he reads Diet Prada often and keeps abreast of how different companies handle controversies – he was particularly interested in the recent Balenciaga saga, he says, although he stops short of offering his own view.
He's active on TikTok and Instagram, where he continues to look for the cool kids who can become the next ambassadors for the brand. His runway shows always have plus-size and diverse models on the catwalk, as well as street-cast cool kids and people who aren't professional models. At a recent Hilfiger party in New York, the hottest new rapper in the US, Ice Spice, was dressed head to toe in vintage pieces, as was Hunter Doohan, the teenage actor and son of the tennis player Peter Doohan. Everyone got their photo with Hilfiger, and he proved he's still bringing all strata of American life together.
"We dress the real world. We don't just dress cool people who make between this amount and this amount of money and live in this specific area. We're very broad as a brand, and we want to celebrate our communities."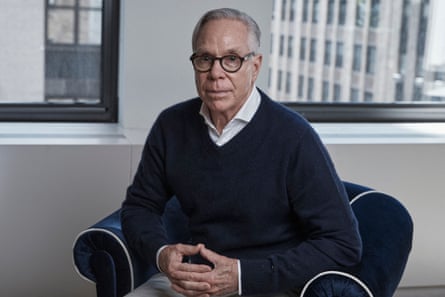 He says he's impressed in particular by the way the influencers of today aren't just singers or sports stars who might want to partner with a fashion brand – they may also be aspiring designers themselves. "I don't think that they're limiting themselves. I think Virgil opened those doors to a lot of his fans and followers. You don't just have to be creative in one area, and I think that's the future of creativity and young people."
Warhol died in 1987, just as Hilfiger's star was on the ascendant. Obsessed with immortality and death, Warhol once said: "Death means a lot of money, honey. Death can really make you look like a star." It's a natural conclusion – that when you reduce people to iconography, they live on long after they die. Nowhere is this truer than in fashion, when overnight names like Alexander McQueen, Gianni Versace, Kate Spade go from being human beings to just a brand.
Hilfiger created an empire out of his name, and a logo, that has become more famous than he is. Does he think about how it will live on after him? "I don't really think about it as a name. I want the company to continue on but my name is just part of the company. I guess my name will become just a brand. But I just want the company to be respected and do the right thing."
Does he think he'll be doing this to his dying day?
"Well, as long as I can. It's still fun! There's never a dull moment. It's not always easy with the hills and valleys along the way. But I can't imagine myself doing anything else. So yeah, I wouldn't mind."