Kino, 34 New Briggate, Leeds LS1 6NU (0113 223 3700). Mezze and small plates £5-7.50, sharing plates £7.50-22, desserts £6, wines from £21.95 a bottle
I have only ever attended one performance by the great Leeds-based company, Opera North. It was a 1987 production of Daphne by Richard Strauss, a work subtitled "a bucolic tragedy in one act" which, funnily enough, later became my fond nickname for the whole of Surrey. Daphne is about love and the caprices of the gods. It ends with our eponymous heroine becoming a tree. In truth, the whole thing made me extremely dizzy, although it turned out that this was on account of the German measles with which I was diagnosed the very next day, this being a year before the universal introduction of the life-saving MMR. Happy memories.
While I have never quite found my way into opera, perhaps because I have never quite met the right opera, I have always admired Opera North. During the 80s, they went through the coolest of marketing rebrands: lots of moody black-and-white imagery, a love affair with blocky sans serif fonts and so on. Even if you never went to a performance, you wanted their posters on the wall of your student house. It made a nice change from the tennis player scratching her bum, or the bare-chested beefcake cradling a baby.
Accordingly, I have always associated Opera North with the gentlest kind of innovation and that still seems to be the case. Attached to the Grand Theatre, their home on New Briggate, is a smart, modern brasserie with lots of wipe-down surfaces, eager waiters and precisely placed downlighters. It's called Kino, a name which references the Howard Assembly Room on the other side, and its former life as a cinema. Instead of installing a permanent operator, they are giving it over to extended residencies. This lets them see what works and allows smaller outfits to have a crack at the bigger restaurant game. In a challenging period for hospitality, it's a smart way to limit risk for all involved.
Right now, it is occupied by MorMor, a Leeds-based street food business that describes itself as making "Levantine-inspired modern small plates and mezze". That pretty much covers it. Expect dramatic bursts of harissa and tahini, labneh and dukkah. Expect to be cared for. Too often there is a hunger for restaurant reviews like this one to head to the margins; to be descriptions of the sensuous and the sublime, of angel's kisses and delicious soft winds on our greedy cheeks, or of some gruesome culinary atrocity that should be tried by a special, well-catered court in the Hague. In truth, what we crave most of the time is just an agreeable night out, where the world can be put to rights and the bill won't hurt. MorMor at Kino is indeed an agreeable night out, which is not to damn with faint praise. You may not flop back in your seat, your eyes and various other body parts moist with excitement. But you will feel that somebody gave a damn. It might be that nice waiter who keeps asking how everything is and genuinely seems to care about the answer.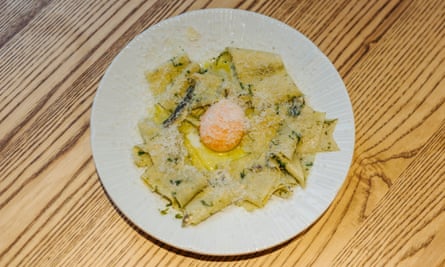 Start with the falafel, creamy at the centre rather than grainy, and lubricated by the fiery red mess of muhammara, that virtuous blitz of roasted red peppers and walnuts sweetened with pomegranate molasses. Follow that with a plate of their confited Jerusalem artichoke, roasted to dark toffeed caramel tones, with equally roasted fennel, on a bright sauce of tahini and preserved lemon. Slightly chewy florets of cauliflower come vigorously spiced with the citrus smack of sumac and the welcome whack of harissa, then battered and deep-fried. A properly fiery green chilli chutney and a roast garlic and lemon dip play chorus.
The menu takes a slightly odd turn with the sudden appearance of pappardelle, like a wedding guest who didn't quite understand the dress code. I imagine it's there because someone in that kitchen has nailed the tricky business of making the silkiest, cravat-wispy, broad ribbons of pasta. Bravo. It is advertised as coming with anchovy butter, a combination of words that always gets me excitable. It turns out to be the silvery, acidic burst of marinated anchovies rather than the umami-rich thump of the salted. I am meant to say that my disappointment here is a matter of personal taste, although in truth I know it would be better with the salted variety because most things are. Still, the addition of a confited egg yolk and snowy gratings of parmesan help it all slip away very nicely.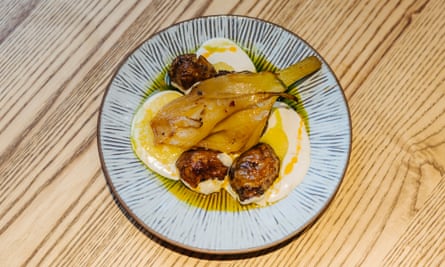 We are back on familiar territory with flatbreads stuffed with spiced lamb, which have then been fried so the crust is golden. On the side is a long-roasted, sumac-marinated onion. Do not miss the double-fried skin-on potatoes, which will have you poking around in the bottom of the bowl for the crispy bits. There are larger dishes, including a sharing plate of lamb chops for three, but the most fun is to be found in the largely non-meat small plates priced between £6 and £12. In places there is a mildly light hand on the salt. This is easily solved. Ask for the salt cellar. Bar the baklava, desserts are from the modern British bistro playbook. There's a glazed lemon tart, a sticky toffee pudding and, cutely, given the location, a pistachio opera cake. They are bought in from elsewhere and do the job. MorMor should be at Kino until the end of April, but presumably can be found trading elsewhere after that. Do look them up.
Other notes from this trip to Leeds: for pre-dinner drinks I headed to Quebec Street and the bar at the three-decade-old Sous le Nez, which is nobody's idea of cool and all the better for that. The wine list is huge and leather-bound, but starts with a long and smart offering of wines under £30. The next day I went for lunch to the old Kirkgate Market, from where I used to buy thick slabs of fabulous bacon when I was a student. Now it is a smart mix of traditional stalls, many selling old-school cream cakes and intriguing, modern food stands. Head to the back and Mr Mackerel, a Turkish grill where you can get a soft white bun filled with a whole grilled fresh mackerel fillet with shredded red cabbage, salad and chillies. It's fantastic. It's probably the best £5 you can spend on lunch anywhere in Leeds right now.
News bites
Let's start by gently raising an eyebrow at the menu offered by a new restaurant in San Diego called California English. The chef-restaurateur Richard Blais says he spent almost two months in London searching for inspiration. The result is a menu that includes a "Cornish Pasty", which I have to put between quotation marks because it's filled with oxtail, bone marrow and date chutney, an English Muffin "Pizza of the Day" and something called a Ploughman's Salad. Best of all, for $10, you can have a bag of Walker's Prawn Cocktail Crisps. And no, they don't open the bag for you. californiaenglishsd.com
Tommy Banks, head chef and proprietor of the Black Swan at Oldstead in Yorkshire, has launched a new podcast called Seasoned, focussing on the intricacies of running an ambitious restaurant supplied almost entirely by his family's farm. Each episode a new guest will join Banks to explore a different aspect of the operation. They include cook and broadcaster Andi Oliver, comedian and writer Mel Giedroyc, London Evening Standard restaurant critic Jimi Famurewa and baker and broadcaster Ravneet Gill. Available wherever you get your podcasts.
The team behind the highly regarded Marksman pub in London's Hackney is to launch a second restaurant called Ladsun. It will be located inside the National Theatre on the Southbank and will be a brasserie with an oyster bar. The menu will include many of the dishes which made The Marksman's name including pies to share, its beef and barley buns and a new spin on its fabulous brown butter and honey tart. marksmanpublichouse.com
Email Jay at [email protected] or follow him on Twitter @jayrayner1