A new sculpture appeared in a square in the town of Paola, Calabria, in April last year. It's not the usual man on a horse, or even anything with legs; it's a many-times-lifesize trout in grey stone – all fins, bulgy eyes and pout.
The unusual monument was erected to commemorate a miracle performed by the town's patron saint, Francis. (He was actually made a saint in 1519, but Covid delayed the celebrations for the 500th anniversary of his canonisation.) This Saint Francis followed in the spiritual – and, for a time, literal – footsteps of his better-known predecessor, Francis of Assisi, but dialled up his reverence for the natural world and became one of the first recorded vegans.
The trout was called Antonella, and the saint would stop daily by her pool in the monastery to feed her crumbs. She grew so tame it was easy for a hungry monk to catch her and slap her in a hot pan. Yet, barely was she cooked before the saint intervened to stop the illicit supper, decry the brother's gluttony and bring his fishy friend back to life. On another occasion, a pet lamb, Martinello, was similarly revived – and he had been reduced to a few charred bones by ravenous workmen.
Enthusiastic anniversary celebrations took place in Paola in early May, with crowds processing through the town and to the sea. There were pictures of the saint hanging from almost every house. This seemed strange given that barely a quarter of Italians are practising Catholics but, as I was to learn, affection for Francis of Paola is more about local tradition than piety. In this spirit, two trekking enthusiasts saw an opportunity to bring the saint and the glorious wooded hills of northern Calabria to a wider audience by promoting hikes on paths he would have trod.
By April, Alessandro Mantuano, an engineer and walking guide, and architect Vincenzo Astorino had put the final touches to two trails – both finishing in Paola – with waymarking and milestones showing scenes from Francis's life. They recruited historian Angelina Marcelli to sift legends about the saint from verifiable history. Their Il Cammino di San Francesco di Paola website has GPS downloads, listings for lodgings and restaurants, and public transport details. With the concrete barely set on the marker stones, the trio gave me a preview. And last month saw the inauguration of a third route, 84 miles (135km) in six stages from Paola to Corigliano-Rossano, on Calabria's Ionian coast, linking three monasteries founded by Francis.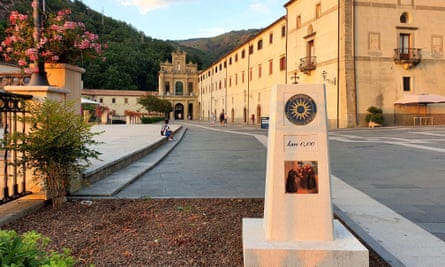 The first route runs for 30 miles in three stages, from the Roman town of San Marco Argentano south to Paola. Francis's middle-aged parents had prayed to the Assisi saint for a baby, promising that if their prayers were answered, the child would be called Francesco and would spend a year in a Franciscan monastery. He duly did this in San Marco at the age of 12. His parents collected him after a year, and this route follows the paths they would have walked back to Paola.
For modern-day pilgrims, with boots, walking poles and baggage transfer if they wish, the trail is demanding but rewarding, starting with views across the Crati valley towards the peaks of Sila national park, then crossing a ridge towards the Tyrrhenian Sea. It even goes outside Italy: our first stay was in a place marked Cerzeto, but usually called Qana. It's one of several villages founded by Albanian refugees in the 15th century, and their Arbëreshë dialect is still used. At weddings and festivals, local women wear traditional dress and sing Albanian songs.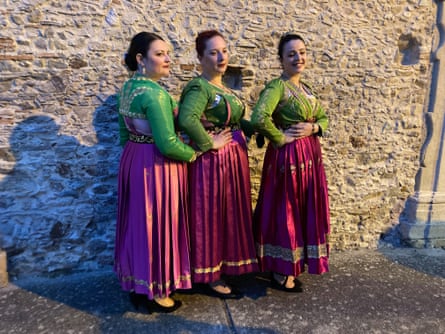 Saint Francis and his followers adopted a life of poverty, believing heroic mortification necessary to spiritual growth. While that's not expected of today's pilgrims, this trek can be done at a low cost: there are a few B&Bs, such as the Rosy in Paola (doubles from €50), but the only accommodation is often a friendly room in a village house – such as Casa di Angela (+39 348 160 5673, Angela speaks English) in Cerzeto – for about €20 a night – or a hostel bed, from €10. People in isolated villages are glad of the income – and delighted to meet new folk.
And there's no mortification in the €15 pilgrims' menu available in restaurants on the route. We feasted on quite unFranciscan quantities of local sausage, ham, cheeses, frittata and vegetables – just to set us up for a following course of homemade pasta.
The second day was spent mostly in beech forest, so unlike mixed British woodland. I'd never seen anything like the vista of mile upon mile of these stately trees spreading across the steep hillsides. Tradition says Francis rested under one now venerable specimen a few miles in. Scientists checked its age and it is 600 years old – so tradition could even be right.
As we walked, Angelina told me they are promoting the cammino not just to visitors: for generations of ordinary people, fear of bandits and, later, mafiosi meant Calabria's hills were to be avoided. Now they are no longer perilous, but exploring doesn't always come naturally.
Francis apparently found even the strict rule of Franciscan monasteries too cushy and lived in a cave near Paola for a time, praying all day and sleeping on bare stone – an asceticism that's hard to grasp today. Easier to understand is an attitude to the environment that links Francis of Assisi to Francis of Paola and today's Pope Francis. Even in the mid-15th century Francis of Paola stressed to followers the need to not exploit nature but live in harmony with it.
Another issue with modern echoes is social justice. Powerful people in 15th-century Calabria had no qualms about ill-treating ordinary people – who'd a thought? – but behaved better if holy men were watching. Francis had founded a monastery in Paola and in 1472 the people of Paterno Calabro, south-east of Paola, begged him to open another there, to protect them from the local "nobility" – as well as saving their souls.
From Paterno, the second trail runs for 39 miles, again in three stages, to Paola. This one was deliciously varied, taking in a high plain south of San Fili, where daisy-dotted meadows were grazed by huge brown cows with placid cream faces and, on the last day, a ridge climb and a descent with views across the sea to Stromboli island.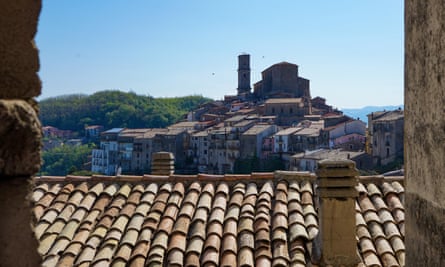 Back in Paola, Trattoria Da Capone offered a vegan "monk's dinner" that didn't feel self-denying in the slightest: olives several ways, courgettes and carrots tasting of the sunny south, wild chicory, aubergine "meatballs" and pastas with beans, garlic and cherry tomatoes.
Other wonders attributed to Francis include sailing across to Sicily on his cloak, and protecting Paola from a 1905 earthquake. Our modern ills of global heating and soaring inequality are probably beyond even his powers, but this low-carbon (if high-carb) trail in Calabria's hills could work small miracles for hikers – and for those they meet along the way.
The trip was provided by the Associazione Il Cammino di San Francesco di Paola. Paola can be reached by direct train from Rome: the quickest route takes 3hrs 18mins, trenitalia.com