Beckford Canteen, Bath: 'A menu that demands to be gobbled up' – restaurant review | Grace Dent on restaurants
It was the second official day of service at Beckford Canteen in Bath when we dropped by to eat – a time when no chef wants to see a restaurant critic. Much like the Ottomans spying Vlad the Impaler on yonder knoll, no kitchen brigade hopes to be invaded and skewered on their opening week. The etiquette of when is too early to judge a new spot is much debated. Some restaurants run a trial period called a soft opening, which isn't as rude as it sounds. Visiting when they are "on soft" means you may get duck ragu pappardelle down your back and a crying server, but a smaller bill to cover the chaos.
Beckford Canteen, on the other hand, had served a friends-and-family function for one evening only when I happened to be in Bath and needed to be fed. My dilemma was that the menu was a delicious paean to modern British classics and comfort foods: chestnut soup, Welsh rarebit, monkfish with curried butter and sides such as confit potato. There was an apple, sourdough and clotted cream riff on bread pudding that attracted me like an ant towards a blob of jam on a worktop.
This is a menu that demands to be gobbled up, rather than cogitated over for three and a half hours. Confit pork belly comes with celeriac, and a roast venison dish with spruce tips and more celeriac. Yes, there is a lot of celeriac on British menus right now. As a nation, we have gone, within 12 months, from rarely seeing celeriac to being offered it more than a Belgian donkey. This overlooked, knobbly, whiskery lump of softly scented vitamin K and fibre is having a moment. I adore the stuff when cooked by a professional chef, though my own attempts at celeriac remoulade have lacked the deliciousness of what I get in France. However, at Beckford Canteen it felt that chef George Barson was a person to trust with such matters.
Barson was executive chef at Kitty Fisher's in Shepherd Market, London, which opened in 2014 and has remained one of London's most gorgeous places to be treated to roast lamp rump. It and sister restaurant Cora Pearl in Covent Garden are casually elegant with an old-fashioned edge, rock-solid, dependable spots to wine and dine. Barson helped build the reputation of both. He also worked with Hugh Fearnley-Whittingstall at the River Cottage Kitchen, Nuno Mendes at Viajante and at Dinner with Heston. Perhaps now you'll forgive me for showing up at Beckford Canteen before they'd got the price tags off some of the pans.
We snuck in at 6.30pm: all 40 seats for the evening in this pleasantly intimate former Georgian greenhouse were sold twice over. Two large tables of friends celebrated birthdays along each side of the room; it was a situation that would break most serving staff on launch weekend, but the delightful Ollie Sutton and his team ran things with razor-sharp alacrity. There were rye old fashioneds in tins and hunks of oozy rarebit, titivated with pickled onion, draped prettily so it looked a little like a cheesy stained-glass window. Good sardines arrived on toast. Only two of them, mind, but for £7, these days it felt like generosity. The chestnut soup was luxurious and balm-like. I wish chestnuts would have their celeriac day in the sun. Right now, it feels as if only me, Barson and squirrels appreciate them.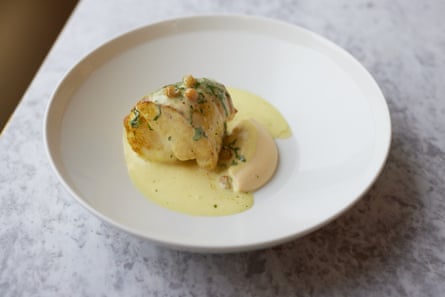 A starter of smoked eel, leek and egg yolk was perfectly wobbly, smoky and softened in all the right places. Not a lot of eel, to be quite frank – in fact, laughably little – but that is the lie of the restaurant landscape right now.
Already shaping up to be one of my dishes of 2023 is the astutely judged monkfish served with a silky curried butter and those concertina-style confit potatoes that some say were invented by the Farringdon's Quality Chop House, although I cannot prove this. Whoever dreamed up this method of adding so much oil to carbohydrate while retaining crispness needs an order of chivalry bestowed at Buckingham Palace.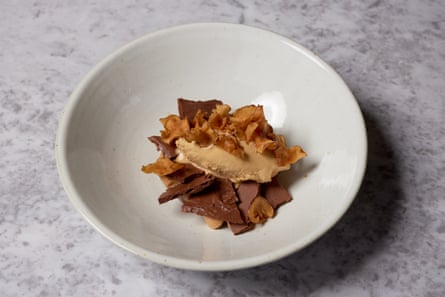 They made me a biscuity chocolate mousse dessert festooned with sweet, crisp jerusalem artichoke shavings that made my heart sing, then turned my table so politely that I didn't even notice I was out of the door. I have since told everyone I meet who is going anywhere near Somerset to visit Beckford Canteen. That's the purest recommendation imaginable. I want people I like to be fed there. No hype, not a place to see or be seen, just a charming place where the food is dead good.
Beckford Canteen, 11-12 Bartlett Street, Bath, 01225 338470. Open Wed–Sun, lunch noon-4.30pm, dinner 6-11pm (Sun noon–6pm). From about £55 a head, plus drinks and service.