The stage seemed set for a homecoming to tug the heartstrings, as Burberry made a much-anticipated return to London fashion week after a three-year absence. Brand Britain, licking the wounds inflicted by Brexit and Partygate, is nostalgic for the days of Cool Britannia with its star-studded Burberry front rows.
Burberry, which has been through something of a midlife crisis recently – it stopped wearing trenchcoats and got into streetwear – is hoping to settle down into cosy, roses-round-the-door Britishness.
It didn't quite turn out like that. As the night began, everything pointed to a cosy British love-in. Guests arrived to be handed Burberry-branded hot-water bottles fresh from the kettle and steaming mugs of hot toddies, and were seated on soft check blankets.
From Stormzy to Vanessa Redgrave, Naomi Campbell to Damon Albarn, the room was full of homegrown icons. Trenchcoats packed the benches like England shirts at Wembley. But when the new designer Daniel Lee's first collection walked down the catwalk, it was not the slick silver service of comfort-food British classics that the audience expected, but something punkier and edgier.
The first two models wore trenchcoats, but with oversized bottle-green fur collars. The house check came in yellows and purples, zipped and chained. There were slogan T-shirts and huge trapper hats, slouchy duffel coat shapes, all-over duck prints and thick colour-clash woollen tights.
The curveball was deliberate. Lee wants to his Burberry to stand for Britishness, but not the obvious kind, he said backstage after the show. The ducks, he said, were "very British – they are about London parks, and the rain". He coloured his rose prints a bright blue "because roses don't have to be red".
The Yorkshire-born designer, now back in Britain after cutting his design teeth in Paris and Milan, said he wanted "to celebrate what's great about this country, which is that the streets are full of people from all walks of life. There is great music here, great theatre, great art. I want to shine a light on those things and show a positive side of Britain to the world."
Beige trenchcoats may be catwalk crowd-pleasers, but they are not enough to fulfil CEO Jonathan Akeroyd's ambitious plan to grow the label into a £5bn brand. A trenchcoat, after all, lasts for ever, and no one needs more than one. To keep shareholders happy, the broader appeal and higher margins of handbags and shoes are required.
Lee, who holds fashion's current record for reinvigorating a heritage brand at record speed on the back of distinctive, sellout accessories during his recent stint at Bottega Veneta, understands this brief. His first Burberry catwalk was crowded with eye-catching accessories, from oversized messenger bags to colourful hiking boots.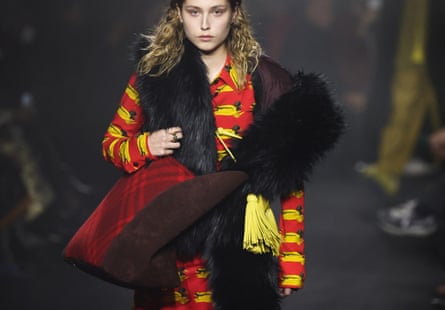 There was a lot riding on this show. Burberry is banking on Lee to make the brand "pop" again after five years in which it has drifted into fashion's peripheral vision. London fashion week desperately needs the commercial clout and creative momentum that having a must-see name on the schedule brings. A resurgent Burberry is essential ammunition in a power struggle with Milan and Paris in which London is losing ground.
The edgy vision of Riccardo Tisci, Lee's predecessor, whose various Burberry muses included mermaids, sharks, Bambi and "Goths on the beach", was intended to take the brand upmarket. A nose-thumb at the cockle-warming, rain-on-the-windows appeal of Burberry's salad days under designer Christopher Bailey, it was cool but overcomplicated.
Consumers were unsure what Burberry stood for. The presence of Bailey in the audience at Lee's show seemed to signpost that the brand is plotting a route back to his romantic vision of Cool Britannia. The clothes on the catwalk, however, suggested that there will be a few more twists in the Burberry story.