There's a lot to love about Glasgow – grand buildings drenched in history, a vibrant arts scene, locally sourced food and unique shopping – it definitely ticks all the "short break" boxes.
It may not be the capital, but Glasgow is the beating heart of Scotland, with the friendliest people you're likely to meet. No matter where you're from, you can expect a warm welcome from Glaswegians.
Since it's the people who really make the city, who better to ask for tips on what to eat, drink, see and do when you're in town than those lucky enough to call Glasgow home? Here's what they had to say …
Breakfast of champions
You'll need a great breakfast to set you up for a day of sightseeing, shopping and culture – and Derek Mallon, managing director of the restaurant Mharsanta, advises you head to a local legend, Café Gandolfi. Its founder, Iain MacKenzie, transformed empty offices in Glasgow's old cheese market into a stylish cafe that's been serving the city for 44 years. Start nice and early with fine Italian coffee to fuel the day ahead. Mallon recommends the Gandolfi full breakfast: "Stornoway black pudding, bacon, sausage, tomatoes, potato scone, mushrooms, eggs and a fantastic sourdough toast. If a full Scottish isn't your thing, the brioche french toast is another dish to start your day."
Take a tour, have a dram, then grab a bite to soak it all up
Big red sightseeing buses may seem a little cheesy, but Glasgow's 21-stop tour is the best way to check out all the city has to offer. Jumping on at the city centre, you should hop off at the iconic Kelvingrove Art Gallery and Museum, which covers everything from Egyptian mummies to Charles Rennie Mackintosh, before heading to the Clydeside Distillery for a tour and a dram. Here, you'll hear fascinating tales about Glasgow's history, industrial heyday and the birth of the whisky industry. When you've finished the distillery tour, Bridgeen Mullen, visitor centre manager, encourages you to explore nearby Finnieston. "Some of my favourite places for a bite to eat include seafood restaurant The Finnieston, Porter & Rye for fine aged meats and wild food, or the Ox and Finch for contemporary tapas." While in Finnieston, you should also make time to have a stroll around The Hidden Lane, a fantastic community and collection of independent shops, artists, designers, musicians and more.
You've got to be kidding me!
Glaswegians are known for their cracking sense of humour, and the vibrant comedy scene reflects the appetite for a good laugh. The Stand and Glee Club are local institutions, but if you're looking for something different, comedian Stuart McPherson knows better than most the great spots to check out. "Drygate Brewery runs a top new act/material night on a Tuesday. The Glasgow Improv Theatre is doing great things with regular nights at the Old Hairdressers, and I always love playing Crossmylaff at the Glad Cafe in the Southside."
And if you're looking for something a little more experimental, McPherson has partnered with fellow standups Gemma Flynn and John Aggasild to reboot the cult comedy night Vision Board at the Glasgow Zine Library. But no matter what tickles you, McPherson explains the best thing about Glasgow comedy: "Most nights in the city you can turn up at a random show and see some of the best acts in the country dropping in to work up their material."
Sticky floors and electric atmospheres – Glasgow's music scene
Glasgow achieved UNESCO City of Music status in 2008, but its reputation as a city that nurtures great talent goes back decades. "From Franz Ferdinand to Teenage Fanclub and from Belle and Sebastian to Camera Obscura, Glasgow is a city that punches above its weight when it comes to music. That's matched by our passionate crowds and legendary venues such as King Tut's Wah Wah Hut, where Alan McGee discovered Oasis," says Herald writer Adam Miller. With a city that's birthed hundreds of venues, including Glasgow Royal Concert Hall, OVO Hydro and O2 Academy, it's not easy to pick a favourite, but Miller plumps for the inimitable Barrowlands. "I've walked under that iconic flashing sign to watch hundreds of gigs, with artists feeding off the energy of crowds that are always up for it. Over the years the floor has remained sticky, the drink choice basic, and the atmosphere electric. I wouldn't change a thing."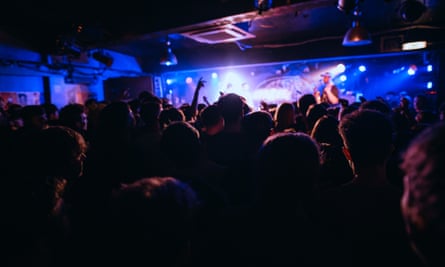 A bar for every mood
There's a really wide range of bars and pubs in Glasgow, so you're spoilt for choice. Steve Benzie, owner of the Alamo Guest House, knows the key to a great bar is finding a good vibe and a serious selection of drinks. Whether it's the Ben Nevis bar, which offers up quality whisky and traditional music, the old school decor of the Islay Inn, or Derby Lane for brunch and cocktails, you're bound to find something to suit your mood. If Benzie was forced to choose one spot, it would be the dog-friendly pub Big Slope. "They've got a great outdoor area that catches the sun most of the day, making it an ideal place to hang out when the weather's good. They also make the best margaritas in Glasgow, and they're under a fiver!"
One-of-a-kind vintage finds
Glasgow is a city of impressive style, and if you're looking to discover a unique purchase for your home, head to the vintage and antique shops that pepper the city. Interior designer and TV presenter Anna Campbell-Jones encourages her clients to buy vintage where possible, explaining: "As well as being kinder to the planet, it gives more depth and meaning to your home. Vintage or antique furniture is also so much better-made for the price than new, unless you spend an absolute fortune." Campbell-Jones loves to trawl the charity shops of Glasgow's west end for interiors accessories, and her favourite places for vintage finds are Relics in Dowanside Lane, a bric-a-brac treasure trove, Salvation Glasgow in the south of the city, and I am Nomad for its beautifully curated collection.
With its thriving arts and food scenes, world-class heritage sites and the breathtaking natural beauty of the Highlands on its doorstep, Glasgow is the perfect destination for a short break. To start planning your trip and discover the city for yourself, head to peoplemakeglasgow.com