Miuccia Prada has put the spruce, starched white crispness of nurses' uniforms on to the catwalk at Milan fashion week, and said backstage that the show was "very much about politics".
Prada and her co-creative director, Raf Simons, said they wanted to "give importance to real jobs" by crafting elegant, beautiful interpretations of workers' uniforms, which they described as "sartorial representations of the beauty of care, of love, of reality … of responsibility".
"There is the notion in fashion that only glamour is important – I hate that, I have always fought against it," said Prada. "For me, for political reasons, right now I am very much focused on reality. What I care about is modest jobs." With strikes making headlines across Europe, the celebration of workers had an unmistakable symbolism. Prada, who studied for a PhD in political science before becoming a fashion designer, was for a time a member of the Italian Communist party.
For the crowds of teenagers who gathered outside the venue on Thursday, the headline news was the presence of the Chinese singer-songwriter Cai Xukun, better known by the mononym Kun, and the South Korean pop star Jeon Somi, who were both greeted with deafening screams. After the show, Prada and Simons posed for photos with Kun, whose platinum mop of Justin Bieber hair framed an enormous pair of black Prada sunglasses, before Simons pivoted the conversation to "real people, real jobs, real life". The designer said the white skirts in embroidered ivory satin that opened the show used fabric and techniques associated with wedding dresses in order to elevate a nurse's traditional wardrobe – "to give it more importance".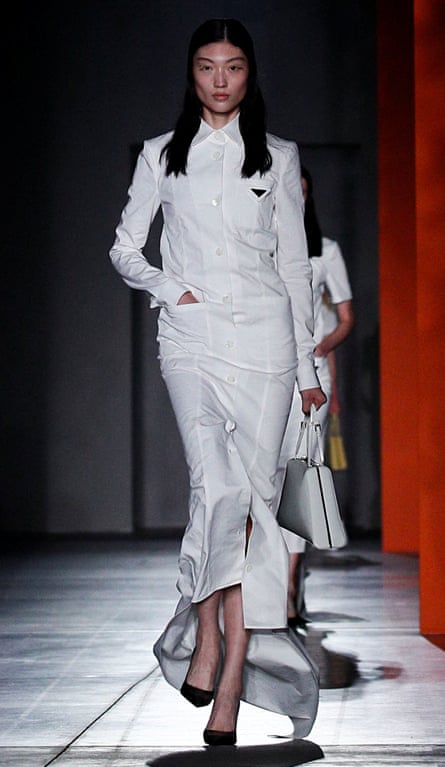 The first six outfits of the show all starred straight-lined white skirts, worn with simple sweaters in uniform colours of grey and navy. Shirts came in white or khaki, with practical front pockets, and were worn neatly buttoned to the neck. Black patent shoes and handbags in traditional Toblerone-chunk shapes added to the utilitarian mood. But elevated details and haute couture references – an exaggerated point on a ballet pump, pleating in the back of a coat for a grander silhouette – subtly recalibrated the status of the clothes. Ordinary clothes became exquisite. The applause at the end of the show was thunderous. "She's just a genius," said the actor Sienna Miller, who watched from the front row. "I don't think there are enough superlatives for what she [Prada] does. When you put it on, the tailoring is just … outrageous, you know? I want to wear everything in that show."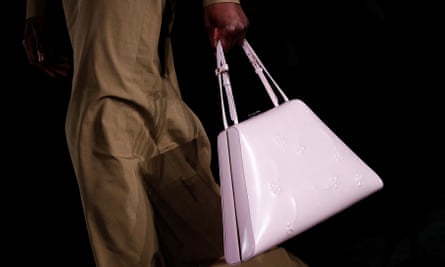 It is three years since Simons joined Prada as co-creative director at the helm of her brand. The unconventional arrangement was interpreted by many in the fashion industry as a handover period, allowing Prada, who is now 73, to take a backseat. In November, Simons closed his namesake brand, which he also designs, a move that increased speculation of an imminent retirement announcement. But before this show, he told Womenswear Daily that such rumours were "completely untrue" and the partnership with Prada remained robust, adding that his reasons for shuttering his brand were "very personal … I want to see my parents more, and my love, and my friends".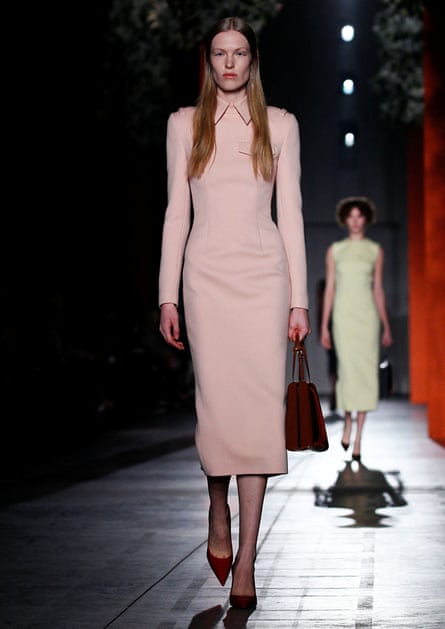 The two co-creative directors agree "99 to 95 per cent of the time", according to Simons. "It clicks together in such a natural way. Sometimes it's almost more surprising to me how much we do agree and how much we do kind of have in common." Their only area of conflict is that Simons likes to listen to music during fittings, while Prada prefers silence. "He's very nice because now, he just puts it on when the girl walks. But after he switches it off," said Prada.